Fluid tripod heads are a vital piece of kit for any wannabe filmmaker, allowing for smooth camera movement and giving videos a much more professional look than the juddery movement of an ordinary tripod head. Wanting to shift more into filmaking, I wanted to get my hands on one at a reasonable price to use with my DSLR. After a bit of research I settled on the Manfrotto XPRO fluid head, available for around £119, it seemed like a decent buy for budget DSLR video shooting.  Here are my first impressions on the XPRO after unboxing and its first test run in the field. Check out the video below to see just how well this budget fluid head performs.
The XPRO is well built and seems pretty solid. It will be a bit of a hefty addition to the camera bag, at 0.76kg, but fluid heads don't come light. The XPRO has a standard 3/8 inch female thread, allowing for attachments to most standard tripods. My tripod, the MeFoto roadtrip, is a small travel tripod, so the XPRO does look a little on the bulky side sat on this slimline tripod. To give an idea of size, I've put my old Fujifilm S200EXR bridge camera on the tripod, which is a similar size to a very small DSLR.
The XPRO's arm screws onto either side of the tripod, catering for left or right handed operation, and is easy and quick to take on and off, making it much easier to transport in a camera bag. A spirit level is included on the base of the tripod head, along with two "fluidity selectors" which, when twisted, alter the resistance of the vertical and horizontal movement of the head (more on the panning and tilting performance later). A silver dial also alters the stiffness of the vertical movement in one click, compensating for switching between different sized lenses.
The XPRO comes with a standard Manfrotto 200PL plate and quick release platform. The platform has  a handy safety lock that must be pulled down in order to pull the lever and release the plate- meaning it would be virtually impossible to accidentally disconnect your camera. If used correctly this means you can place the camera and plate back onto the head with just one click, though in reality, you'd usually have to fiddle with the two levers to get the camera back on.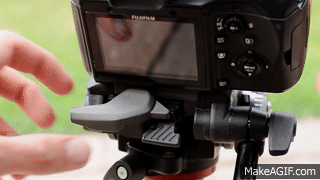 How does the XPRO fluid head perform in the field?
Shooting wildlife through a telephoto lens with the XPRO, overall, I was pretty impressed by its performance given the low price point. The XPRO was easy to use and didn't feel particularly bulky in the field. The XPRO worked great for smooth panning shots of birds in flight and the two fluidity selectors gave a nice level of control over how much the camera moved.
But there were a handful of niggles. Although panning is usually smooth, slow down the panning speed and movement can become a little juddery and uneven. When finishing a pan, I often experienced a slight recoil as the camera settled slightly in the opposite direction. With my DSLR and telephoto set up, re-focusing during filming caused some camera shake; although this could also owe to the light-weight tripod. I attempted some close up panning shots of bird foot prints in the sand, but the slow panning, tracking focus and close-up subject at 300mm created shots that just weren't smooth enough for my liking. Now it has to be said that I expect I will be able to overcome some of these issues with more practice.
Check out how the XPRO dealt with camera movement and stationary shots below, featuring a gorgeous sunrise, greylag geese and some wonderful waders on Cleethorpes beach. Shot with Nikon D7100 + Nikon 70-300mm VR.
My conclusion? Despite its imperfections, I think the XPRO will make for a perfectly good base to build my filmmaking portfolio. But, for someone with a larger budget who wants to ensure truly slick professional looking DSLR videos, one of the more expensive models may be a wiser investment. To see how the Manfrotto XPRO performs in the long run, after much more practice, make sure to subscribe to my blog and look out for future videos!
You can purchase the Manfrotto XPRO Fluid Head from Amazon and most photographic retailers. For all the specs and more information, check out this link to the manufacturers website.